Visit Us in Hawaii
A Different Kind of Flight
Our bees need to fly 48,000 miles to produce one pound of raw organic Hawaiian honey. No matter how many miles you'll fly to reach the Big Island, you'll never forget your visit to Big Island Bees.
Experience Our Honey Farm
Monday-Friday, from 10am-3pm
When you visit our honey farm in Hawaii, you will enter the world of bees and beekeeping. We have a variety of activities for you and your family, only one of which requires advanced reservation.
Take a beekeeping tour where you'll have a box seat on beekeeping in a safe and secure screened area (reservations required).
Visit our museum and explore the amazing world of bees and learn about our delicious, raw organic honeys.
You can also browse our store full of honey, beeswax products and beekeeping memorabilia.
Come spend some time with us in this hidden corner of Hawaii. 120 million of our bees look forward to seeing you!
Make a Day of Your Visit to Big Island Bees
We have partnered with Shaka Guide, a self-guided audio tour provider, to make the most of your trek to our area of the Big Island. We recommend the Kona Big Kahuna Audio Tour for exploration of our area of the Big Island.
Learn More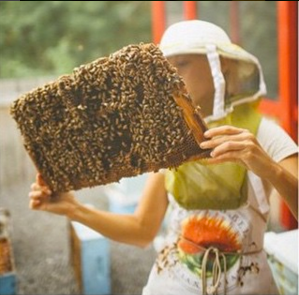 Take Our Beekeeping Tour
ReservationS REQUIRED
If your schedule allows for it, we recommend taking our daily Beekeeping Tour. You can explore actual hives with our beekeeper and learn where the queen resides, how the hive is organized, and what makes bees so special and interesting. You'll also get to enjoy a free tasting of our six unique raw honeys. Space is limited and reservations are required.
Learn More
Book Now
Visit Our Museum
Free Admission | No Reservations Required
Step into the world of beekeeping. Whether or not you take our beekeeping tour, there is so much to see and learn at our museum! Come look inside our live, interior demonstration hive where you can try to find the queen laying eggs and watch the bees capping honey. View beekeeping artifacts, learn about the history of beekeeping and find out how honey is made. Our on-site beekeepers and staff are always available to answer questions you may have about the exhibits, artifacts, and displays. Ask them how bees find nectar, communicate, navigate, and hold different jobs within the hive during their short lives. We love sharing our knowledge of and appreciation for bees!
Due to COVID-19, all store visitors will be asked to wash hands or use hand sanitizer upon arrival. Masks are optional.
Enjoy a Free Honey Tasting
Currently Only Available to Tour Participants
Make sure not to miss out on the chance to taste delicious raw Hawaiian honey when you take our Beekeeping Tour. We offer free honey samples so you'll get to savor the different varieties of honeys made from the nectar of the Big Island's unique flowers. We hope you'll enjoy it even more with a greater understanding of the process of making it available to you.
Browse Our Store
Free Admission | No Reservations Required
Also located inside the museum is our retail store. Choose one of our honeys as a gift to take back home or pick up a jar for yourself of your favorite varietal. You can also shop our selection of Hawaiian specialty foods such as coffees, teas and snacks; our specially formulated line of bath and body products; Hawaiian gift items, beeswax candles and more.
Hours & Directions
PLEASE FOLLOW DIRECTIONS BELOW
DO NOT USE GPS
82-1140 Meli Rd Suite 102, Captain Cook, HI 96704
Mon-Fri, 10am - 3pm


From Kailua-Kona, head south on Highway 11. At the intersection of Napo'opo'o Road and Alii Drive, immediately south of mile 111, stay in the middle lane and proceed straight onto Napo'opo'o Rd. Continue on Napo'opo'o Road approximately 3.5 miles. Turn right at the stop sign to continue on Napo'opo'o Road. A half of a mile after the stop sign, turn right onto Meli Road (you will see our sign immediately before the turn). Follow Meli Road .2 miles and turn right at our gate.
Make a Day of It with Shaka Guide
Visit Other Sites Nearby When You Visit Big Island Bees
We're located near some other notable sites and activities that you may also want to consider when you come to see us. A great way to make the most of your day is to purchase the Shaka Guide Kona Big Kahuna Audio Tour. The tour will guide you as you drive to popular places, including snorkeling and kayaking in Kealakekua Bay and the Painted Church.
How the Tour Works
Works offline on your phone using GPS to guide you with narration along your drive
Lasts 4-6 hours beginning in Waikoloa or Kona
Allows you to choose where to stop and how long to stay at each stop
Includes 21 stops on a counterclockwise loop that ends in Kona
Big Island Bees is the 5th stop after Kona
You can find several other Big Island tours on the Shaka Guide website that you might be interested in as well.